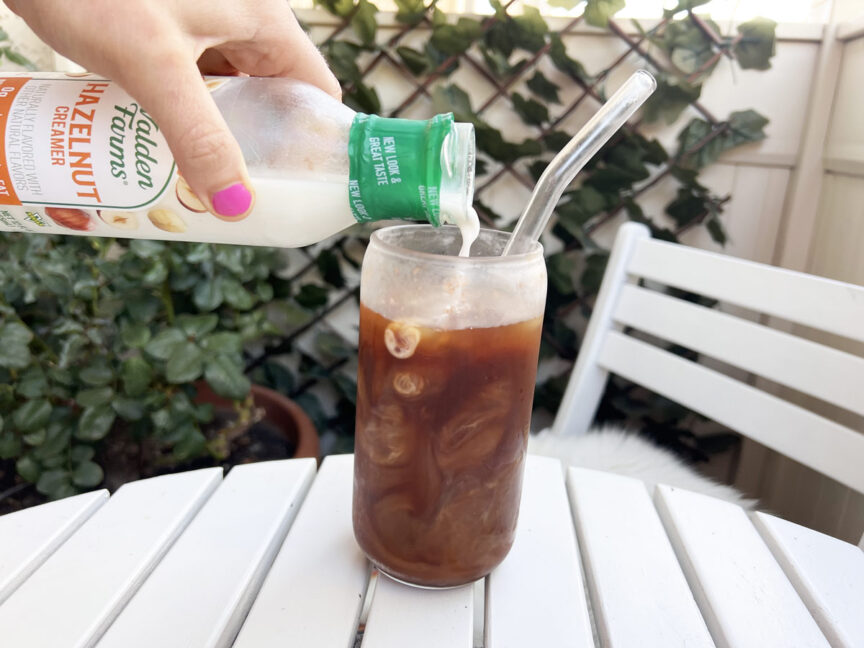 How to make protein Mocca latté ice coffee
This 5-min healthy protein iced coffee is perfect if you love your fancy Starbucks iced lattés but want to cut down on fats, carbs, and money spent on coffee. Make this quick protein iced coffee vanilla caramel hazelnut latté with no sugar or fats in 5 min at home for a fraction of the cost compared to one from a coffee shop.
Macros in Protein Ice coffee
Serving size: 1
Calories: 45
Protein: 9 gr
Carbs: 2 gr
Fats: 0 gr
Time & Equipment
Prep time: 2 min
Cooling time: 3 min
Equipment: Keurig Coffee pod machine, heat-proof glass or tumbler
Ingredients in Protein ice coffee
Instructions for how to make Protein Ice coffee
Brew Green mountain Vanilla Caramel Brewed over ice Keurig pod in heat-proof glass with a Keurig coffee machine.
Stir in 1 scoop of Vital Proteins Collagen peptides with Chocolate flavor until the lumps are gone. You can also add an additional scoop that will make it even more chocolatey and add 45 calories and 9 gr of protein.
Add 2-4 cups of ice cubes and a dash of Walden Farms zero-calorie coffee creamer. I love the hazelnut flavor!
Make it to go by using a cooling tumbler with a lid. Enjoy this dairy-free Mocca Latté protein iced coffee with only 2 gr carbs and 0 gr fat while saving money simultaneously.
Products in Mocca Latté Iced Coffee
I am an amazon affiliate, and if you liked this recipe, and wish to purchase them on Amazon, please use the links on this page to click through to order them. I am grateful for your support, helping me make more quick, healthy, delicious, and nutritious recipes.