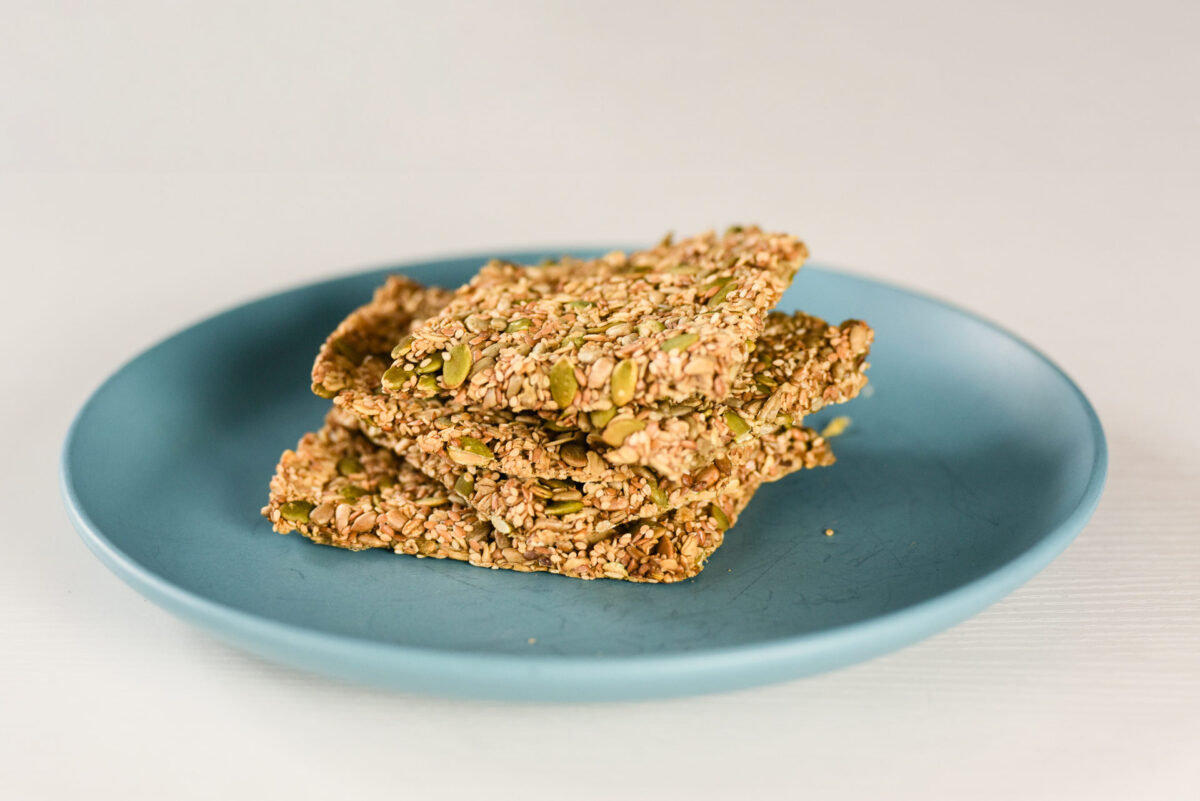 Seed crisp bread recipe with healthy fats
This Scandinavian-inspired healthy seed crisp bread recipe is easy to make and full of good fats, and if you struggle with constipation and digestion, they are a lifesaver! They will get things moving out of your bowels. And they are, without a doubt, very tasty, and combined with a delicious selection of various toppings such as creme cheese, ham, avocado, or eggs, these crisp breads make a full, nutritious and delicious meal.
Health benefits of seed crisp bread
Seeds have amazing health benefits, they are a great source of fiber, and monounsaturated and polyunsaturated fats can help reduce your blood sugar levels, cholesterol, and blood pressure. Additionally, they also contain vitamins, minerals, and antioxidants. The genius thing about these crisp breads is that the texture of them really helps to get your bowels moving. As a matter of fact, I usually bring a box of these when traveling to ensure a happy belly while being away from familiar foods.
Flax seeds: Good source of omega-3 and fiber, helps lower LDL ( Bad cholesterol)
Sesame seeds: Improves sex hormone status for estrogen. Reduces inflammation and oxidative stress.
Pumpkin seeds: improves heart health and symptoms of urinary disorders and may reduce the chances of breast cancer.
Sunflower seeds: Reduce inflammation and cholesterol levels
Oatmeal: Among the most nutrient-dense foods you can eat, can reduce blood pressure and LDL ( Bad cholesterol), lower blood sugar levels, and relieve constipation.
Macros in seed crisp bread
Recipe servings: 20
Serving size: 100 gr
Calories: 308
Protein: 10 gr
Carbs 10 gr
Fats: 10 gr
Fiber: 17 gr
Time and Equipment
Prep time: 10 min
Baking time: 40-60 min
Cooling time: 20 min
Equipment: 2 large oven pans (21 x 15 inches), Baking sheets, large mixer bowl, large mixer spoon, flat spatula, pizza cutter
Ingredients in crisp bread
200 gr / 300ml / 2 cups Sunflower seeds
200 gr / 300ml / 2 cups flax seeds
200 gr / 300ml / 2 cups pumpkin seeds
200 gr / 300ml / 2 cups sesame seeds
400 gr / 1000ml / 6 cups rolled oats
800 ml water
2 tsp salt
Instructions on how to make healthy seed crisp bread
Prepare two large oven pans lined with baking sheets and set the oven to 350 degrees.
Mix all the dry ingredients.
Add water and mix until evenly wet mixture.
Pat mixture flat on an oven pan, about half an inch thick, with a large flat spatula.
Cook in the oven for 20 min.
Take trays out of oven and slice into 4×4 inch-sized crips breads with a pizza cutter.
Put back in the oven for another 20 min.
Take the Crisp breads out to check if they are finished. Should be completely dry with a slight golden hue. Remove the finished crisps breads and add them to another tray/ container for cooling. Then flip the crisp breads that are not completely dry to dry out the backside, or the sides of the crips breads that were in the center of the pan. Bake the remaining crips breads for an Additional 5-15 min for best and even results.
Serving recommendations for seed crips bread
You can eat these seed crisp bread with mostly anything; here are some options you can try:
Light cream cheese with ham and tomato – Fewer calories and added protein
Pesto and ham – Bold, savory flavor, more healthy fats, and protein
Various nut butters for additional healthy fats
Avocado and ham – More fiber, healthy fats, and protein
Avocado and eggs – Added proteins and healthy fats from the yolk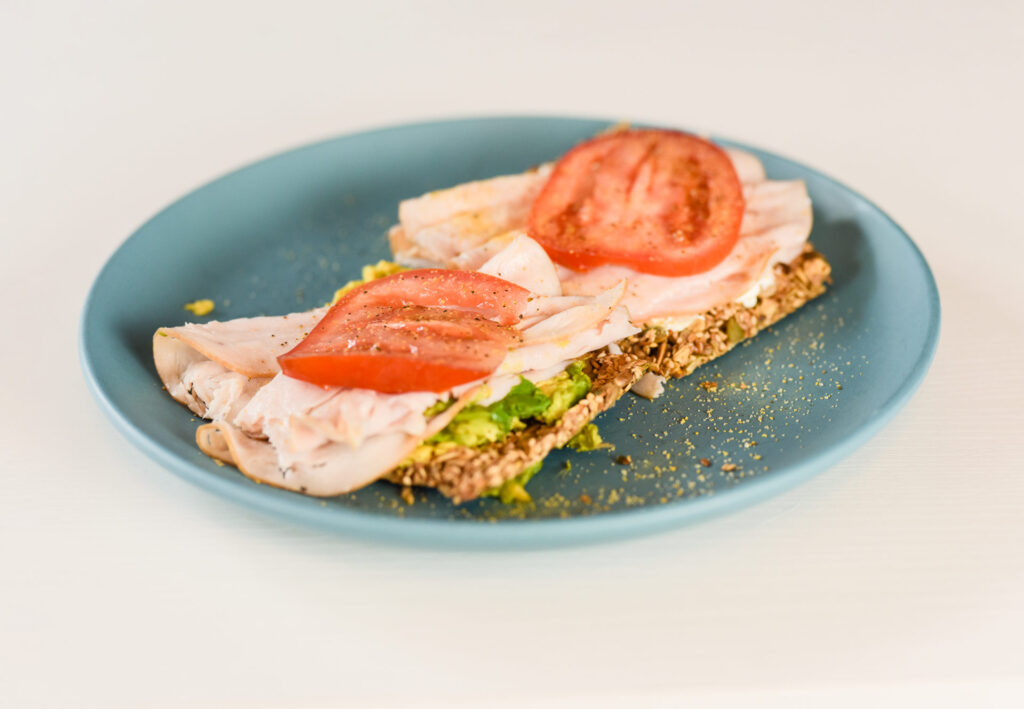 Summary
Summing up, these healthy seed crisp breads provide you with more than half of the daily recommended amount of fiber, basically give your colon a nice cleanse, and are superb if you struggle with constipation. Furthermore, they can help reduce cholesterol and additionally lower blood pressure.
Struggling to find out what and when to eat to achieve your health and fitness goals? Get in touch with me here ariellevate.com/get-in-touch to schedule a free 15 min consultation where I will analyze your situation and give you tips and recommendations on how to best reach your goals!
Products in recipe
I am an amazon affiliate, and if you liked this recipe and wish to purchase them on Amazon, please use the links on this page to click through to order them. I am grateful for your support, helping me make more quick, healthy, delicious, and nutritious recipes.